Recognize that dashing creature on the left? No, not
Cruella
. The other one. Kate-ella. Earlier tonight I attended the
Venomous Villains
event at my local
M.A.C
. store. The line was fairly long to get in, but moved quickly, and it wasn't long before I had a cockt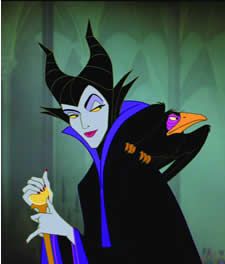 ail in my hand and my eye set on the prize.
Maleficent
.
My favorite of all the Disney villains. The One to Rule Them All. I had known for months that she was going to be one of the featured villains in this limited edition line, and she was the reason I bribed my husband to go to the mall even though he'd rather stay home and play on the 360.
I didn't buy all of the Maleficent set because I'm not big on nail polish, and I didn't really like the 'Briar Rose' blush/powder. However, I did get both lipsticks, both glosses and both eye shadows. I also picked up one of the Cruella eye shadows (Sweet Joy) which is a pretty light golden color, and I got one of the Cruella powders (Her Own) which is a lovely brownish rose. Also I grabbed the Dr. Facilier Truth and Light powder.
Here are swatches of the Maleficent lippies. From left to right they are Dark Deed, Violetta, The Wrong Spell and Revenge is Sweet.
The color is slightly off here, even though I tried to make it as close as possible. Dark Deed is a beautiful purple-wine color while Violetta is a rich magenta. The Wrong Spell is a dark purple with ... what seems like a hint of ash. Very striking, while Revenge is Sweet is candy pink and enticing as you would expect. I immediately tried all four on when I got home. I think Dark Deed is my favorite of the lipsticks and Revenge is Sweet my fa
vorite of the glosses, but I look forward to playing around with all of them to see what kind of looks I can come up with.
Here are the shadows:
She Who Dares is one of M.A.C's
Mineralize
eye shadows (as is My Dark Magic), so they're swirls of color mixed together and highly pigmented. This one is a rich purple-blue and black along side a dark mossy green and black. The photo is pretty true to the shades, but you can achieve different shades with a careful dab of your brush.
My Dark Magic is very much the same color scheme as the lips -- purple and rich fuchsia -- but with some black swirled in. They're fairly close in color on the skin, but have more contrast in the package. Still, I think this offering might be my favorite of the shadows, though I do love that green.
Not all of the eyeshadows are mineral. The Cruella shadows are very much the regular singles, and there are pigments available with the Dr. Facilier set.
All in all I'm in love with what I bought, and had common sense not at least blinked in my direction, I might have bought more. If you're a M.A.C. fan, you can't go wrong with these colors, and if you're a
Disney
fan... well, you NEED this makeup! The packaging alone is to die for.
For more images (fabulous images!) of these products, check out
Temptalia's blog
.